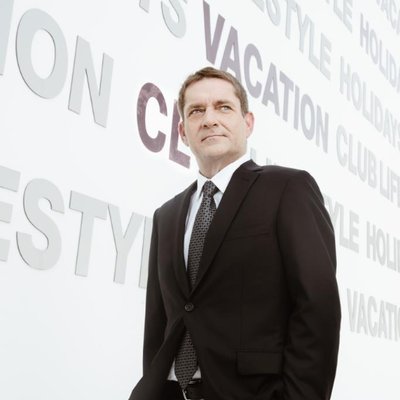 President Markus Wischenbart Explains The Key Successes and How His Vision Has Become A Reality
President Markus Wischenbart Explains The Key Successes and How His Vision Has Become A Reality
In Cofresi, you will find the largest hotel complex in the Northern Region of the Dominican Republic and also where Lifestyle Holidays President Markus Wischenbart calls home, Visible from the roadside the lifestyle logo is etched not only on the signs around the resort but on the very heart of Puerto Plata.
The hotel complex boasts over 1,160 rooms consisting of two hotels, The Tropical, which is the essence of a true tropical experience in a resort on the beach, with Mediterranean buildings 3 stories high. It has 282 spacious rooms, divided into 229 tropical rooms, most with ocean views and 53 junior suites.
The other hotel is the Cofresí Palm Beach, which is the most recent building in the complex, with 468 exquisitely decorated units, from Spa Suites for adults only, to family rooms, located between the beach and numerous swimming pools. Lifestyle Holidays President Markus Wischenbart commented, "the design took into account the comfort and space becoming a relaxing experience for every type of traveler need".
The Residencial Suites is a group of apartments located on the slope of a mountain, very close to the beach, these suites offer spaces for both sleeping and sharing, providing all the necessary comfort with private bedrooms, the suites are distributed in four buildings of three levels each with a view of the garden, the mountains or the pool.
The resorts Presidential Suites, with 160 units, 53 of these with three bedrooms, is the luxury suite concept of the complex, these unique units have elements beyond comparison, in a luxurious and elegant accommodation experience.
The resort's villas are 3-7 bedroom private villas each with their own pool and come with amongst other things a private breakfast option in the villa and golf cart in order for guests to move around freely, it is details such as these that put the villas in a league of their own.
Guests who stay at the resort have the privilege of making use of all the restaurants, bars, and other facilities. This was the idea created by Mr. Wischenbart since the inception of Lifestyle Holidays…
"To create individual spaces catering to differing needs and group sizes but all whilst enjoying VIP areas and services, my aim has always been to be the best, in everything. From being innovators of luxury transfers to and from the resort to the continuing growth and construction of our villas, the company is innovative and always moving with the times."
When asked what makes the Lifestyle resorts different to others Mr. Wischenbart's answer was direct…
"We take the best staff, create the best accommodations and VIP communal areas and deliver the best service…the combination of these elements is what makes Lifestyle a truly unforgettable experience."