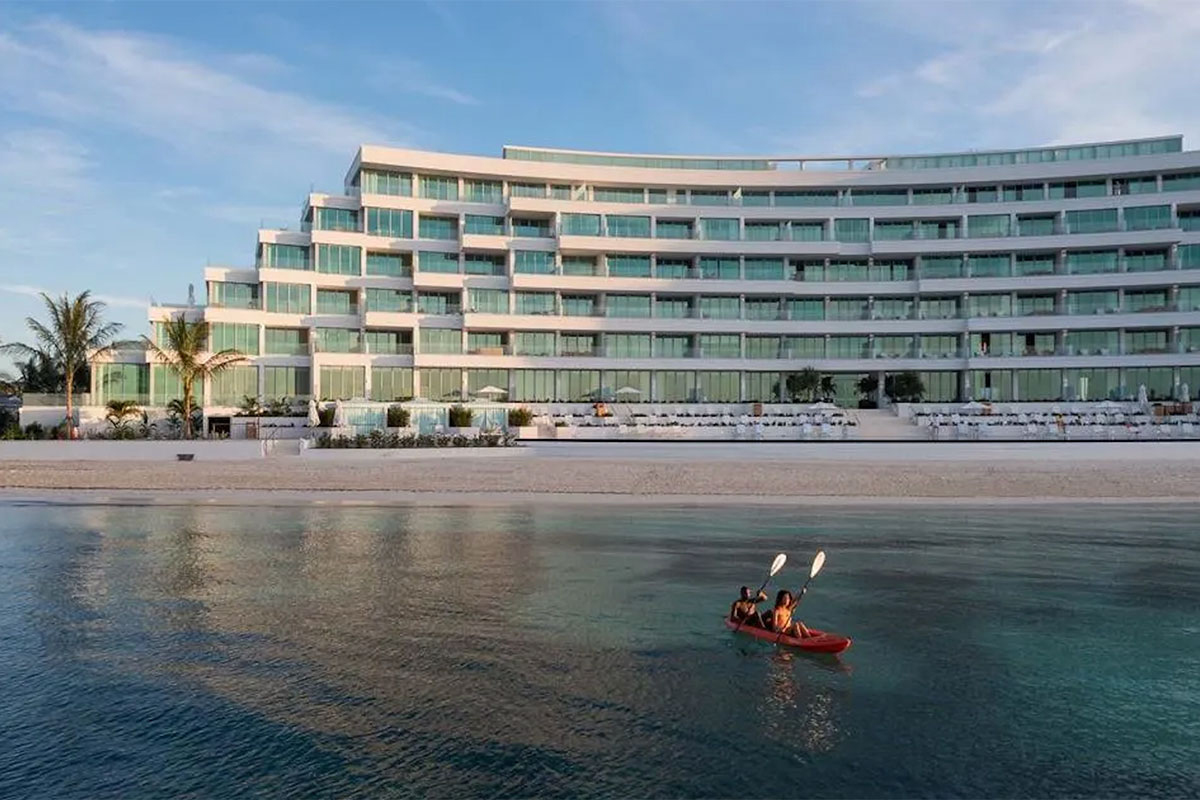 Experience Style, Beauty, And Grace At The Goldwynn Resort & Residences In Nassau, Bahamas
The first thing you feel when you step inside the brand new Goldwynn Resort & Residences is a distinct sense of place. While the oceanfront resort on Cable Beach in Nassau, Bahamas has all the trappings of a modern luxurious outpost and greets you with its azure skies and topaz waters – this ambiance is bolstered with a jovial celebration of local artists & photographers, cuisine, culture, and the people who call the area home.
Additionally, this bit of paradise has been carved out for those seeking an experience on a more intimate scale. Compared with the nearby hotel giants that line Nassau, here the boutique property is spread out over five floors, offers 81 residential-style studios & suites, two restaurants, a lounge, infinity pool, and a spa & gym that immerse you in a tropical sanctuary. In fact, the Small Luxury Hotels of the World community is inclined to feel the same way – this property is the only Bahamian member of this prestigious collective.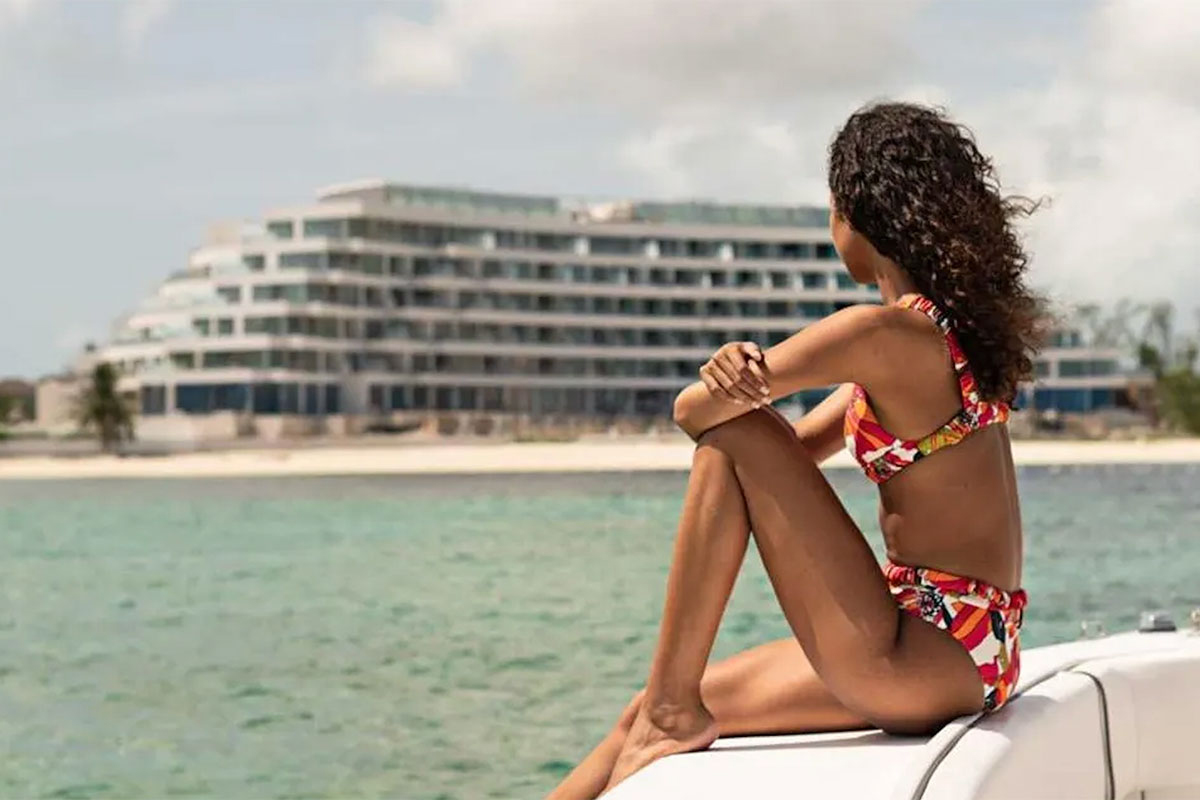 For those are culturally curious and who desire a more bespoke experience, here are the most stylish discoveries at the Goldwynn Resort & Residences:
Spirited Style
As the capital of the Bahamas, Nassau is a popular cruise port stop – so in a fitting homage, the idea of a ship shaped hotel property – as if it careening through the calm waters to its destination – was imagined by Paul Wynn, of Wynn Hospitality, LTD, developer of Goldwynn Resort & Residences. Wynn recruited Toronto-based Makow Architects to draw up the plans and then had locally-based Project Director Sam Kennedy to bring the Goldwynn to life.
Even with its distinctive shape – Robert Acree, a consultant who also worked on the hotel – explains that the property cohesively blends in with the surroundings in a thoughtful manner. "The shape, both horizontally and vertically, with the staggered balconies and views to the beautiful Bahamian water, encompasses the surroundings much like a ship. The design of the building certainly has the 'wow' factor from the exterior and interior," he adds. Its modernist curvature which caresses both sand and sea, from the waterline, appears to you as an entrancing mirage.
This notion of a Bahamian "Sense of Place" is most aptly seen and felt through the property's meticulously curated art pieces in galleries and common areas – offered almost as moments of intimate discovery. Dionne Benjamin-Smith, Art Advisor & Consultant, explains that she handpicked every and commissioned every site-specific artwork. With over 100 pieces and growing, in phase one of her artistic offerings and curation, we are confronted with old-world hardships and graced with triumphs; to avant-garde interpretation of the ever-shifting complexities and joys of our present day society.
Every piece is meant to evoke thoughts, emotions, and dialogue. "The irrepressible Bahamian soul and spirit is felt and seen through the photography, sculpture, paintings, and mixed media pieces now present on the property," she offers. Be on the lookout for these captivating favorites: 'Traversing Ethereal Islands', the largest relief painting in the world conceived by Kishan Munroe whose 60 ft. tall flamingo mural thrusts up into the heavens with its pink majestic creatures interwoven onto a relief map of the islands of the Bahamas.
Meanwhile, artist Imogene Walkine takes us into the deep blue with her aptly named 'Coral Reef' installation: "The inspiration for the ceramic (pieces) was the soothing currents and this rich underwater world," she adds. Lastly, be on the lookout for photographers Delton Barrett, Melissa Alcena, Leanne Russell and Kally Klonaris-Smythe – their images provide an enriched and complexly beautiful interpretation of what it means to be a modern-day Bahamian and ways in which they identify and express ideas of 'the self'.
Captivating Suites and Rooms
The 81 residential-style accommodations are offered as studios; one- two- and three-bedroom suites; and three expansive Edge suites. Each space offers its own personality and flair via the featuring of local Bahamian art, imported furnishing from Canada, California, New York, and India, and beyond; as well as personalized layouts – but every room includes a kitchenette, private balconies, and views of either the Bahamian ocean or nearby golf course.
All designed by FFE (Furniture, Fixtures, Equipment) Manager Jennifer Treco for Wynn Development, she explains that she mirrored the philosophy of the exterior aesthetic with her vision for the interior spaces. "My interior design career, skills, and know-how certainly came into play (when working on this project). Goldwynn is unique and stunning in its curvature, the sexy appeal of a building. Each suite is unique in its footprint; I had to pay close and careful attention to the interior layout in order to achieve the function and feel of the rooms. The suites certainly needed to be a modern, clean line, open and refreshing space in order to engulf the beautiful views this building possesses."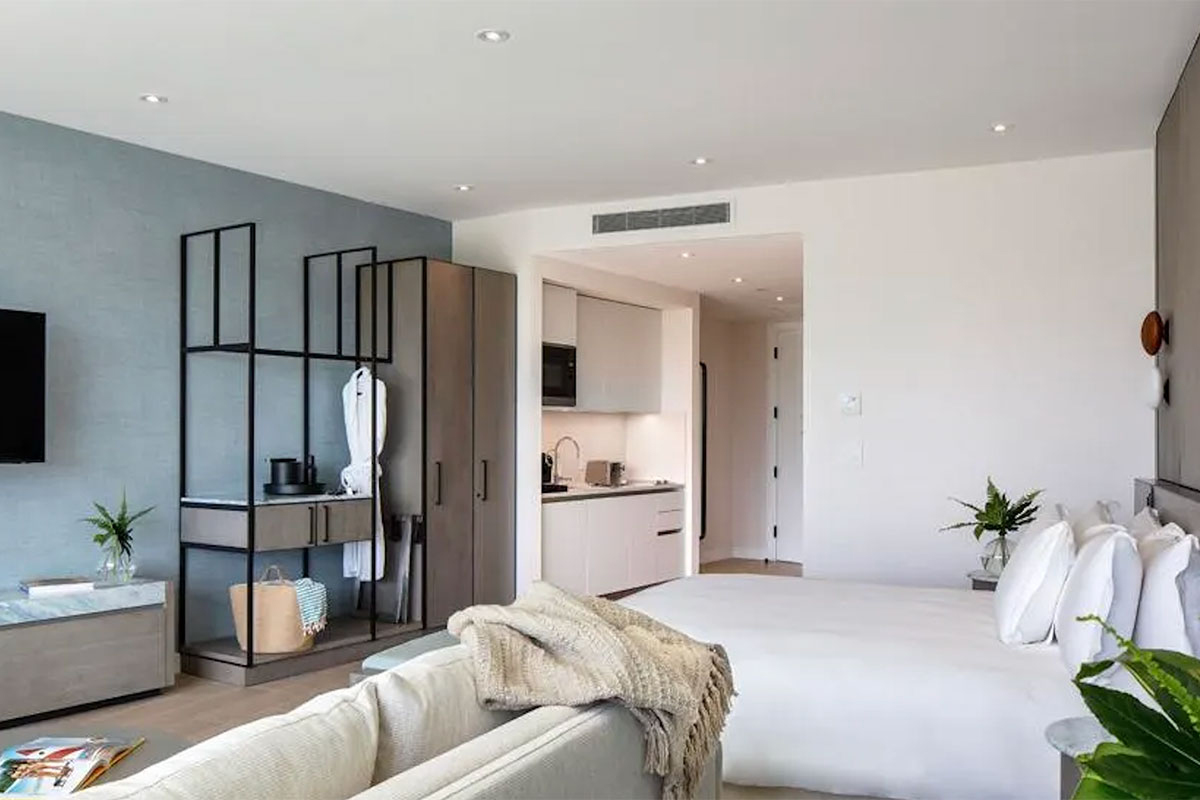 Spa Sanctuary
Born and raised in Nassau, Rhizophora Spa owner Channa Cius has over a decade of experiences and training in Eastern and Western modalities – she offers therapeutic treatments that address external and internal ailments. She feels proud to offer her services to guests here at Goldwynn. "Our treatments and respective philosophies are all about grounding oneself and attaining a sense of calm. The majority of our products and services use Mangroves (the spa Rhizophora is named after the true mangrove tree; they are revered – and have been and remain essential to nourishing our ecosystem)." She adds that in the same way the Rhizophora tree offers protection and health, so too does the spa, "with our holistic treatments that will stabilize and maintain your wellbeing."
Recommended treatments include their Mangrove Package which offers top-to-toe serenity via a restorative wrap with locally sourced ingredients such as seaweed (that infuse your body with antioxidants and minerals), body brushing to remove dead skin cells and eliminate toxins, and facials to depuff, unclog and renew skin. The Rhizophora Costal Massage is another favorite – here, the ocean waves are your symphony of wellness because this service is offered on a private outdoor cabana – and includes aromatherapy and scalp massages.
Gastronomic Bites
Executive Chef Bakhodir Sharipov for Titan Hospitality is spearheading 'MediterAsian' cuisine through OIA at the Goldwynn Resort. He explains how the concept was conceived: "MediterAsian came about when we wanted to meet two of the trendiest cuisines dominating across the globe on one plate. The idea of using Japanese techniques with Mediterranean sea ingredients was just a delight. We source our unique ingredients from the Mediterranean Sea and the Asian continent."
This globetrotting chef, originally hailing from Uzbekistan (and who graduated from Johnson & Wales University in Culinary Arts and Nutrition Programming) has always found himself at the crossroads of travel and food – so upon graduating, he ventured to the United States to help open numerous hotels and restaurants in Miami and Las Vegas – all while fine tuning his culinary prowess, whether in the kitchen or eating in local spots during his off time.
So when the Bahamas beckoned, first to help open Katsuya (a Japanese restaurant) – and now to lead the brigade at OIA – he seized the opportunity to merge his cultural learnings and apply them here. His global perspective is manifested on the OIA menu as innovative Cracked Conch Roll; Goldwynn Roll with lobster and striploin; and Seabass with celeriac sauce and yuzu gelee. "Our food at OIA has flavors that have been elevated by using the best produce and techniques. The complexity of flavors is done in a very delicate and simple way which gives the dish a unique and unforgettable taste. The sharing concept is encouraged so that our guests can experience a larger variety of flavorful dishes," adds Chef Sharipov.
On site, additional culinary options include Atria (for light lobby bites; house made pastries in the morning; and classic cocktails); Bar Paul nestled beside OIA (for creative cocktails, local beers, top-shelf spirits, and bespoke cigars); and Amara ( a beachside respite for fried seafood, refreshing salads, and fresh sashimi and maki rolls).
Culturally Curious Experiences
Travelers are always asking for authentic experiences when it comes to shopping, food, and culture/arts. But what does this truly mean? For Melissa Alexander, Consultant Director of Sales and Marketing at Goldwynn – it implies venturing down the offbeating path and finding spots that locals actually frequent. It also means embracing those intrepid people who quite literally show up on your doorstep to strike up a partnership: "For instance, we collaborated with Chippies (a cultural/entertainment tour operator) because the owner and guide, Fontella Chipman-Rolle, came to the Goldwynn to show off her brand new electric tour vehicle (the first one on the island)." And the rest – they say – is history.
Alexander also feels that they've been afforded more freedom to explore such intimate opportunities because the property is boutique in scale and isn't tethered to chains-of-command and long-winded approval processes. So Goldwynn takes the responsibility and opportunity to heart: "Our intimate nature innately calls for exploration beyond our resort, and when our guests are doing so, we feel a responsibility to direct them to businesses that honor traditions in the Bahamian culture and deliver exceptional service. Guests depart Nassau feeling that they have experienced the 'true' destination and the knowledge that they have truly contributed to the local economy."
Such 'Culturally Curious' and customizable trips include local dining options to outposts like Sapodilla – a family owned and operated fine dining outpost specializing in fresh seafood dishes (such as grilled flamed island lobster) and theatrical table-side fare (such as Steak Diane set alight with fine brandy right before your eyes); and 'Fish Fry'/Frankie's Gone Bananas for conch salad, breaded fish bites, and island jerk chicken with plantain. Local shopping highlights include hand-crafted jewelry and skincare products by Tanya Klonaris; Craft Cottage Bahamas which showcases emerging local talents who produce sustainable garments, bags, jewelry, accessories, and more; and Bahamas Hand Prints – legacy hand printmakers whose bespoke collections are found on bags, clothing, accessories, and homewares.