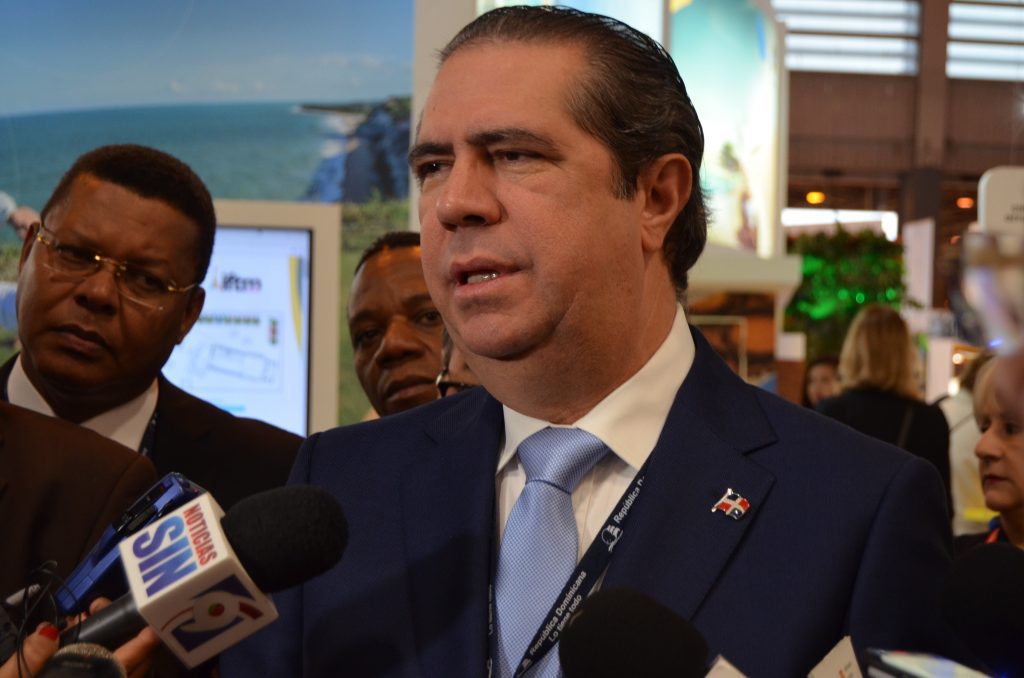 Lifestyle Holidays Vacation Club Welcomes Dominican Republic Minister of Tourism Francisco Javier Garcia
Lifestyle Holidays Vacation Club Welcomes Dominican Republic Minister of Tourism Francisco Javier Garcia
PUERTO PLATA, Dominican Republic (Sept. 3, 2010) — Lifestyle Holidays Vacation Club (LHVC), located in Puerto Plata on the North Coast of the Dominican Republic, was recently honored to receive a special visit by the country's Minister of Tourism, Francisco Javier García and César José De Los Santos, Vice Minister of Tourism for the North Coast. The visit was prompted because LHVC is considered one of the largest and continually growing tourist resorts in Puerto Plata. The Ministers' visit was part of their agenda to become better acquainted as well as to recognize the major tourist developments in the area.
"For our Lifestyle Holidays Vacation Club family of employees, members and guests this important visit represents a high distinction and a great recognition for which we are profoundly grateful," said Markus Wischenbart, LHVC President. "At the same time, we express our unconditional support to the Ministry of Tourism in promoting travel and tourism to this city and throughout the Dominican Republic."
From hotel accommodations to stand alone villas, Lifestyle Holidays Vacation Club has made old fashioned service and values fashionable again with amenities and services fit for a V.I.P, including access to "members only" amenities such as gourmet restaurants, cafés, bars, swimming pools, exclusive beach areas, golf carts, limousine transfers, and helicopter tours.
LHVC encompasses the following resorts: The Lifestyle Holidays Vacation Resort with four distinct developments, including The Tropical, The Crown Suites, The Crown Villas,Royal Villas and the Residence Suites; as well as the Executive Spa Suites by Lifestyle, The Presidential Suites by Lifestyle, Dream Suites by Lifestyle, Sunrise Suites – Puerto Plata, The Cliff Villas and Villa Park Villas.
LHVC members, guests, and their families have a wide variety of activities available to them in the Dominican Republic's North Coast. Next door is the Ocean World Adventure Park with its daily animal and aquatic and casino. Other activities in the area include a cable car ride to the peak of Mount Isabel de Torres, white water rafting, horseback riding, deep sea fishing, boating, snorkeling, monster truck safaris and city tours of Puerto Plata, named in 2008 as one of the 53 best destinations in the world by The New York Times.
On the East Coast in Punta Cana, LHVC members have access to some of the most beautiful beaches in the country, featuring Cabeza de Toro, Bávaro, Arena Gorda, Macao, and Uvero Alto, as well as 12 championship golf courses which make Punta Cana the largest single golf destination in the Caribbean. An endless array of activities in Punta Cana includes sports fishing, diving, snorkeling, horseback riding, and tours via beach buggy, helicopter, and catamaran. Nearby points of interest include the Basilica of Our Lady of Altagracia, the largest basilica in the Caribbean and the town of San Pedro de Macoris, the birthplace and training grounds for many famous baseball players from the Dominican Republic.